Turn Table -SVATT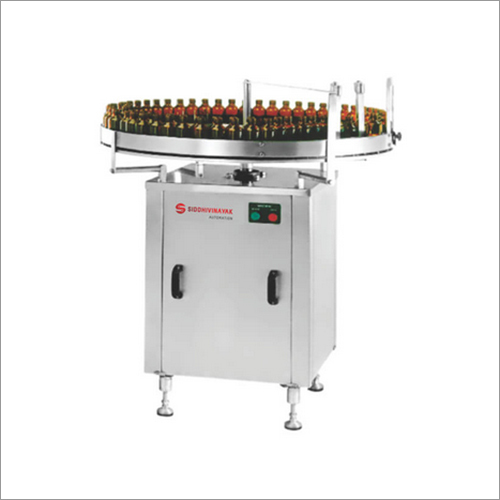 Turn Table -SVATT
Product Description
Turntable Manufacturers India - SVATT is known as Scrambler and Unscrambler. Each turntable has a variable / fixed gear drive mechanism synchronized to the line-processing equipment. This permits uniform flow of containers and a 90 Degree turn to suit different machines. A stainless steel frame, solid guide rails, and a reduction gearbox contribute to noise-free and jerk-free operation. Additionally, Siddhivinayak Automation offers VFD (variable frequency drives) for variable speed applications. The container will be fed onto a turn table by hand or automatically, rotate on the disk of the turn table, and exit out the outlet. In the rotation period, the SS strip will guide the container towards and achieve uniform flow between containers.
TurnTables Salient Features:
Containers flow uniformly.
Constructed with SS 304 materials.
Suitable for different types of container.
Noiseless operation with no jerks.
Optional Features of Turn Table -SVATT:
Castor Wheel with locking mechanism for easy transport.
Variable Frequency Drive for variable speed.
Extra tray to load or unload a container.
Specification
Model

SVATT-24

SVATT-30

SVATT-36

SVATT-42

Size

24 Dia.

30 Dia.

36 Dia.

42 Dia.

Direction

Clockwise / Anti Clock wise as per requirement.

Power Characteristics.**

0.5 HP/415V/50Hz AC Supply

Power Supply

3 Phase, 440V, 50 Hz AC Supply