ROPP Cap Sealing Machine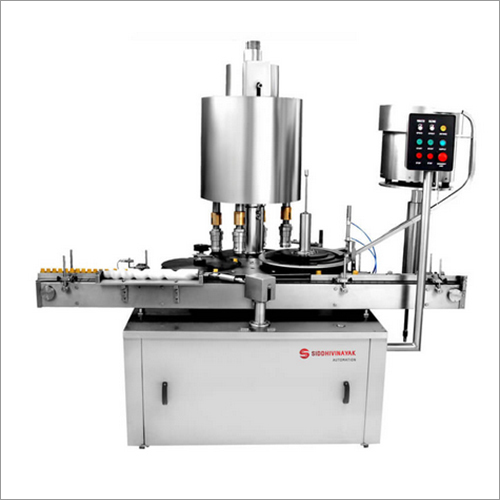 ROPP Cap Sealing Machine
Price And Quantity
Piece/Pieces

40000.00 - 80000.00 INR
Product Description
This ROPP Cap Sealing Machine is suitable for auto capping and sealing ROPP caps on various size bottles. This machine is easy to use, versatile, and self-supporting. As bottles are loaded onto the filling machine, they are continuously transferred to the slat conveyor belt of the sealing machine and fed through the in-feed worm for optimal spacing between two bottles before being loaded onto the in-feed star wheel. Before entering the delivery chute, ROPP caps stored in the orientation unit automatically position themselves in the correct direction. The bottles select the cap from the delivery chute and enter below the sealing head. This system consists of four rollers in total. Skirting, spinning, and sealing the cap is completed by two rollers, while threading is done by another pair of rollers based on the bottle neck diameter. In a sealing operation, the sealing head moves upward with the help of the cam and the bottle moves with the help of an exit star wheel, moving along the conveyor belt for a subsequent operation.
Salient Features of ROPP Cap Sealing Machine:
Totally GMP-compliant model.
There is no container and no cap arrangement.
Stainless steel matt finished body.
Single motor synchronizes platform turret, star wheel, and conveyor.
Sealing pressure can be varied depending on gauge and cap size.
A cap bowl with a special hopper is designed to increase the cap's storage capacity.
Smooth and noiseless operation, vibration-free operation.
The guide profile is made of self-lubricating UHMW-PE with a low friction wear surface.
SS cladding or hard chrome plating of all exposed parts to ensure long life and resistance against corrosion.
Universal coupling for quick and easy setting of In feed worm.
Adjustable bottle height gauge for easy and quick setting.
Optional Features of ROPP Cap Sealing Machine:
Height can be adjusted by a motorized system.
Cabinet made from acrylic.